May 2019 Education Newsletter

Subscribe Today and STOP Paying-Per-Course! 
Get unlimited access to the best educational content on Sensory Processing Disorder, with over 60 courses available 24/7 from anywhere in the world with internet access.
OT/SLP Subscription plans also include AOTA/ASHA* CEUs. Subscription plans for organizations are available, which provides access for multiple employees of an organization at a reduced rate.

*ASHA CEUs available for SOS Advanced Courses only.
Working with Twice Exceptional Clients
by Mim Ochsenbein, MSW, OTR/L
I have been very fortunate in my practice over the past 23 years to have worked with a wide variety of communities. One that is particularly near and dear to my heart is that of the Twice Exceptional, or 2e, community. The term "2e" is often used by those who have been identified as gifted individuals and also have other developmental, learning or mental health designations such as Autism, ADHD, anxiety disorder, Sensory Processing Disorder (SPD), or learning disabilities. This group faces unique challenges as a result of their particular expression of neurodiversity. Many identified as 2e benefit from the support of occupational therapy (OT) to help them address these challenges.
First, it's important that we are all working from shared terms. "Gifted" refers to a person who possess abilities significantly above the norm for their age in one or more domain: intellectual, creative, artistic, creative, leadership or in a specific academic field such as language arts, mathematics or science (National Association for Gifted Children, 2019). You may have heard of other designations, including "highly gifted," "extremely gifted," or "profoundly gifted." These terms are reflective of different levels of giftedness used by the educational and psychological communities. They are determined through assessment, typically IQ assessments. Although it is difficult to determine the prevalence of giftedness in the United States, we do know that giftedness occurs across all race, ethnic, gender, and social-economic groups (National Association for Gifted Children, 2019). And although this group possesses significant gifts in their capacities, they often face significant challenges as well. Gifted children often experience anxiety, perfectionism, stress, difficulty with peer relationships, and issues with identity and asynchronous development (Roedell, 1984).  It is easy to see how things can become exponentially more complicated for an individual who possesses both giftedness and a co-occurring diagnosis. 
Occupational therapists are especially well-positioned to support members of the 2e community and their families. Our training in sensory, regulation, social capacities, emotional and cognitive development, and an understanding of play provides a more comprehensive lens of the strengths and challenges a person who is 2e may be experiencing. Though each person who is 2e is their own amazingly complex person, clinically we do see some areas of commonality across this population. 
Regulation: Often we find that those who are 2e have difficulties in cognitive, emotional and/or sensory-based regulation capacities.
Executive Functions: Typically an area of strengths and challenges, those who are 2e often exhibit significant discrepancies in skills. Possessing skills that are average or slightly below average is a huge issue for the child/family when viewed next to their strengths and can cause tremendous anxiety. Often, 2e children overuse their cognitive strengths to compensate for skill deficits and still don't meet their own expectations. They may require considerable work on normalization of the process of "learning new stuff is hard and takes practice."
Social Cognition: Many 2e children require help to increase their understanding in this area. These children are in different places than their peers and require feedback on how other people think, do, and perceive things. 
Sensory Processing: "Sensory excitabilities," as labeled by the gifted/2e community, is a common feature in giftedness. It would be labeled as Sensory Over-Responsivity (SOR) by the OT community. Many members of the 2e and gifted communities do not view sensory excitabilities through a deficit lens. Instead, they see it as a strength and part of the giftedness package. It is important to determine the sensory processing challenges that impact occupational performance and daily functioning exist for a child, and to educate a family on that aspect of the child's presentation. The importance of using a strengths-based approach is key, and the focus of intervention should be on helping the child and family work on regulation needs related to modulation without threatening to take away strengths.
Clinicians working with the 2e population (and there is a good chance that is you!) or who are interested in working with this population may find additional study of regulation, sensory processing, relational interventions (e.g. DIR/Floortime), executive functioning and cognitive-behavioral therapies helpful and rewarding in meeting the distinctive needs of this community. Check out our online course, A Paradigm for Understanding the Sensory Child's Emotions, Achieving Optimal Developmental Milestones: The DIR Model.
With all that said, there is one piece of advice that I found most helpful in my work with this population... They ARE smarter than you! Accept it, embrace it, and work WITH it!

---
The SOS (Sequential Oral Sensory) Approach to Feeding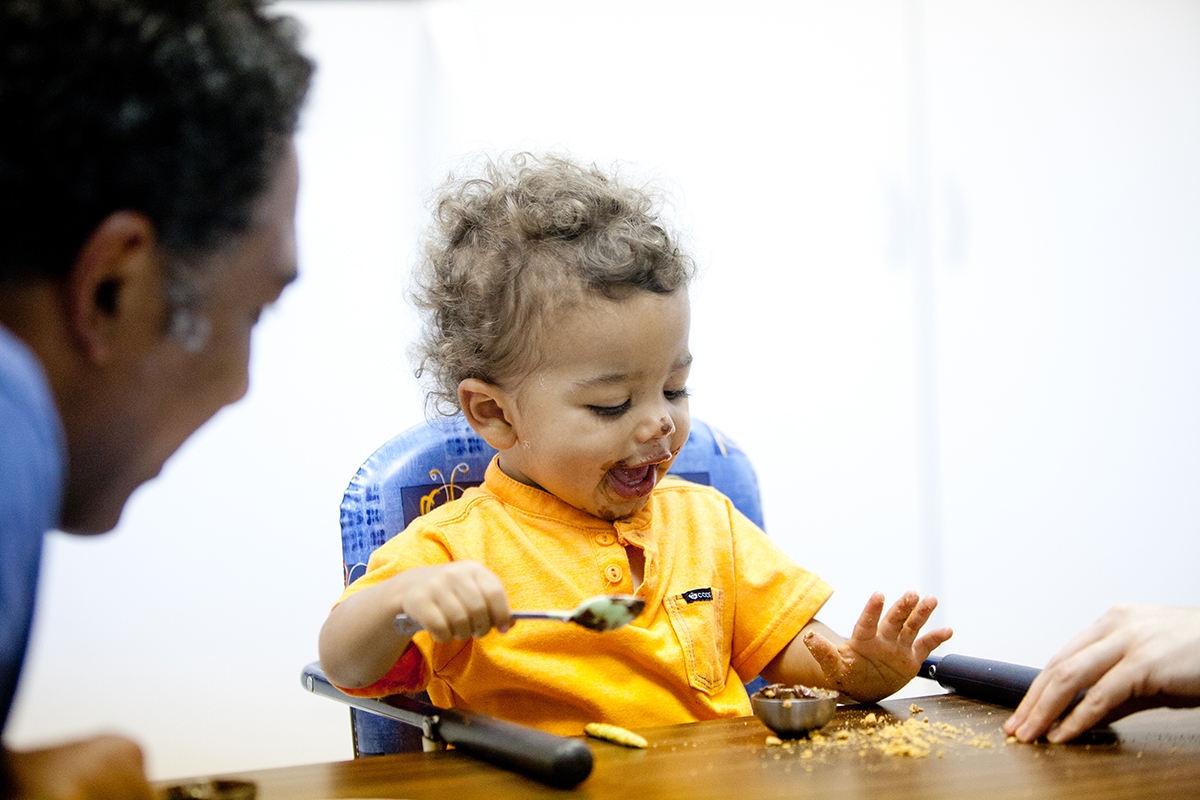 The SOS (Sequential Oral Sensory) Approach to Feeding is a transdisciplinary program for assessing and treating children with feeding difficulties and weight/growth problems from birth to 18 years. This program uses a transdisciplinary team approach to assess the "whole child," including organ systems, muscles, development, sensory processing, oral-motor skills, learning, behavior and cognition, nutrition, and the environment. The Basic 4-Day Course is a prerequisite for the online Advanced SOS Courses, like Feeding the Child on the Autism Spectrum,Working with Children with Severe Developmental Impairments, and more. Check out our upcoming offerings of the Basic 4-Day Course.

---
Top Online Learning Picks
---
School-based Intensive Online Course
We now offer THREE learning options for School-based Occupational Therapists!
Get started with the foundational online only course TODAY!
Once you've finished the foundational online course sign up for the in-person 2-day course up to one-year later to receive a Certificate of Completion and full CEUs. 
Sign up for the TOTAL PACKAGE that includes both the online and in-person 2-day course. 
Attend both the Online and In-Person components for the best value! More details
Mechanical or Dynamic? Discussing and Disputing Posture Models • Live Webinar on June 5th
Recent advances in pain science and medical research have allowed modern health and wellness practitioners to move beyond the old, "architectural" model of human posture. Kevin Moore will explore the foundations of a new model: a dynamic system built on the tension between seeking out information and retreating from threat. A recording will be available for later access. More details
Parent Coaching: 
Fostering Meaningful Collaboration Between Clinicians & Families • Live Webinar on July 17th
In this presentation, we delve into the anatomy, architecture and recruitment of the diaphragm and pelvic floor and their relationship to mature postural control. The dynamic systems model continues to prove useful as we explore the connections between anticipatory postural control, continence and interoception. Finally, a practical exploration of 3 components of alignment will serve as a foundation for clinical assessment and treatment of anticipatory postural control. More details
Understanding Telehealth • Recorded on May 16th
Telehealth is a mode of service delivery for occupational therapy services which is becoming more utilized to meet the healthcare needs of a variety of individuals. Jayna Fischbach, PhD will walk participants through the basic regulations for licensure, practice acts, reimbursement, malpractice insurance, and technology requirements for providing telehealth services. Supports and challenges for practitioners providing telehealth services will be reviewed to provide participants a foundation for starting to use telehealth. A recording will be available for later access. More details

---
Upcoming Courses
---
Level 1 Intensive Mentorship Program
June 17-21, 2019 • Denver, CO | July 15-19, 2019 • Denver, CO
July 19-22, 2019 • Los Angeles, CA | August 5-9  • Denver, CO
Working in a small-group setting, participants of STAR Institute's Level 1 Intensive Mentorships learn to apply clinical reasoning through treatment observation, analysis and group processing/supervision with experienced therapists and faculty. Experience active mentoring before, during, and after observed treatment sessions. Sessions are scheduled throughout the year at STAR Institute and various off-site locations. More details
School-based Intensive for Occupational Therapists
May 31-June 1, 2019 • Franklin, MA | June 28-29, 2019 • Mt. Laurel, NJ
This intensive training course supports the clinician to gain an advanced understanding of sensory processing and integration theory, the STAR frame of reference adapted for the schools, evaluation, and various strategies of intervention. Clinicians learn to apply clinical reasoning through lectures, video treatment observation and analysis with experienced STAR faculty. Foundational information is presented via online recordings in advance of the in-person workshop. The course will end with an opportunity for each clinician to develop an action plan to take back to their own practice. More details
SOS Approach to Feeding Conference
June 20-23, 2019 • New Orleans, LA 
Expand your practice and make a difference in the lives of children with all levels of feeding challenges! The SOS (Sequential Oral Sensory) Approach to Feeding is a renowned, transdisciplinary program for assessing and treating children with feeding difficulties and weight/growth problems of all ages, with a special focus on children from 12 months to 5 years old. It integrates posture, sensory, motor, behavioral/learning, medical and nutritional factors to comprehensively evaluate and manage children with feeding/growth problems. More details
Clinical Group Supervision (online)
June 26-July 24, 2019 • 6PM- 7PM (MT) | July 31-August 28, 2019 • 6PM- 7PM (MT)
Sensory-based Occupational Therapists bring their toughest questions and their most complicated cases to this group for clinical supervision and problem solving in a collaborative model. Led by STAR-trained expert clinicians, each group meets for five 1-hour sessions to ask, learn, and grow around their most challenging cases. More details