Trampoline Class for Kids
Trampoline Class
March 13th – April 12th 2 Spots Left
Tue. & Thurs. 4:00 – 5:00 PM
$375 for 10-class session
Children ages 4-10 years
Trampoline Summer Camp 
June 4th – 15th
1 PM – 2 PM
Children ages 6-12
Investment: $660
July 16th – 27th
1 PM – 2 PM
Children ages 4-8
Investment: $660
JumpOnIt! Get Moving!
A fun and upbeat movement-based group class on mini trampolines!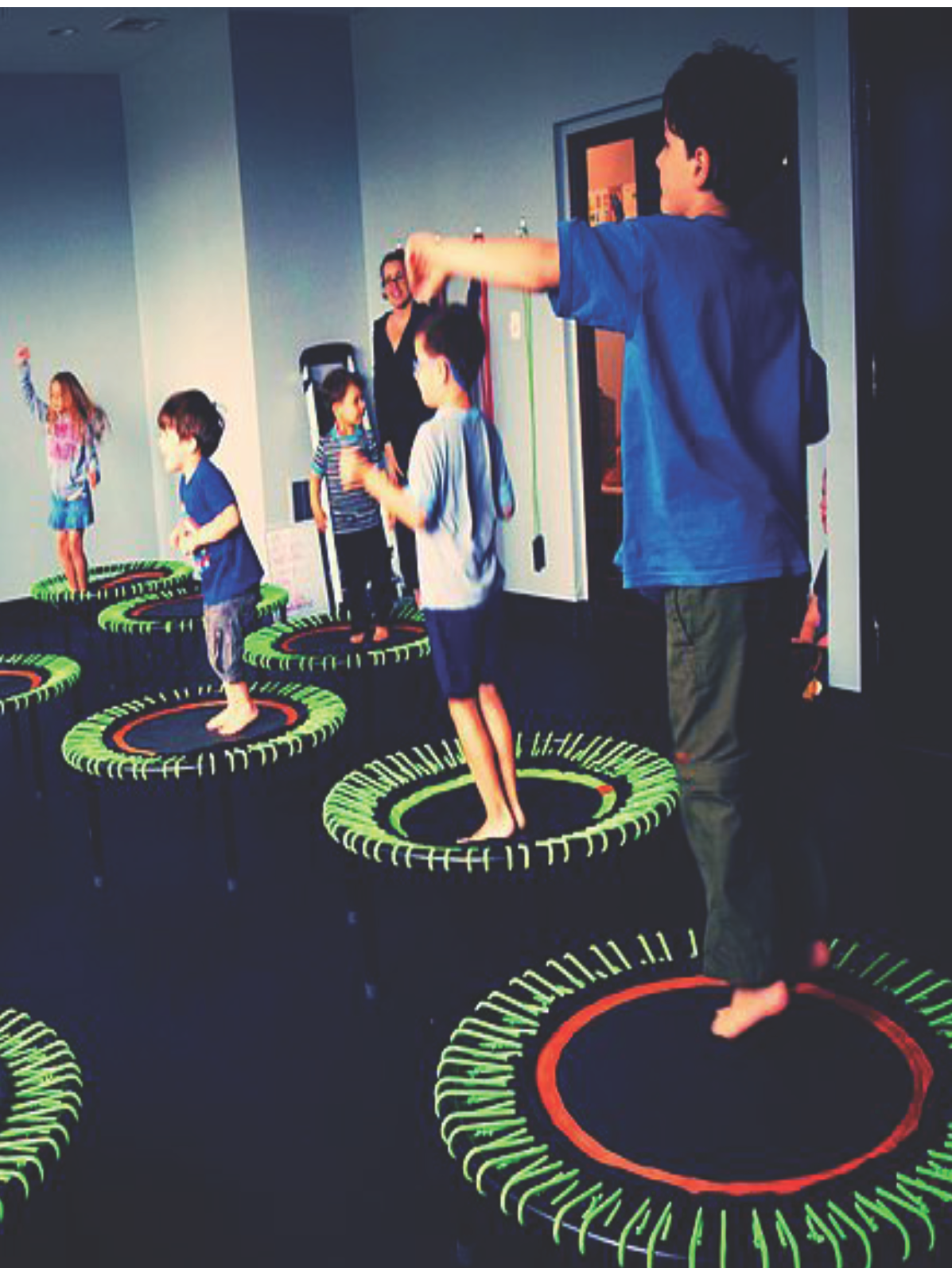 JumpOnIt! Get Moving is available to children with Sensory Processing Disorder as well as their siblings.  It works to promote coordination, endurance, confidence and safety in children with and without disabilities.
The Research:
The classes are following two research projects examining effectiveness of the class. In the first pilot study conducting in Fall/Winter 2016, the findings suggested that JumpOnIt! Get Moving! may be effective in improving motor difficulties of children with and without SPD. All children improved on the M-FUN gross motor subtest from pre-testing to post-posting. Also, trends showed that the majority of the children also improved in M-FUN fine motor and visual motor from pre-test to post-test. There were noticeable changes in the children who attended the class that were not formally assessed as well, including improved self-confidence/self-esteem, increased interactions and socializations among the participants during class, and increased play ideas/themes created by the participants.
If you are interested, please complete an intake form and/or email Carrie (class coordinator) at carrie.einck@spdstar.org.
---
JumpOnIt! Get Social! Summer Camp
Fun and motivating summer camp promoting motor endurance, coordination, and socialization. Children with SPD and their siblings will develop motor skills and friendships to music on mini trampolines.
Promotes self-esteem
Improves coordination and endurance
Improves safety
Improves interest in sports and similar group classes
Encourages sharing FUN and interactive experiences with peers
Social skills and self-confidence are taught naturally within a fun and upbeat setting to children of all ages and abilities. It is intended for children with and without specified disabilities as well as siblings. Many parents find this class a great stepping stone toward introducing their child/ren to community-based group classes.
June 4th – 15th
1 PM – 2 PM
Ages 6-12
Investment: $660
July 16th – 27th
1 PM – 2 PM
Ages 4-8
Investment: $660
For more information, contact us or complete the intake form or Email: Carrie Einck carrie.einck@spdstar.org
---
What Parents Are Saying!
I think her posture has improved the most out of all the changes I have seen, and it's amazing how much that alone seems to have improved her regulation. This group has been magic for [my daughter]. She developed a sense of belonging with other kids that I don't believe she's ever experienced before. It has boosted her confidence and independence so much more than I could have dreamed of. I'm so grateful that she had the opportunity to participate!"
-Mom of a 4 year old daughter without a diagnosis
"[My daughter's] performance at school has been the steadiest it has been in a very long time."
- Mother of 10-year-old daughter with autism
"It was really fun for me to watch because it was the first time my kids had done something together. The age difference and the developmental difference had never allowed for it. Everybody has their own trampoline and has their own game plan so [my son] could be successful for a very long time. He doesn't have too many other games he can do that with. [My daughter] is shy and slow to warm, but she is quick to open up with how the class is structured."
- Mother of 10-year-old son with autism and 5-year-old daughter without diagnosis
---