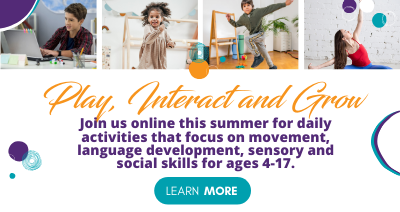 We are delighted to let you know we'll be continuing our online programs throughout the summer. Offering your child daily activities that focus on movement, language development, sensory and social skills for ages 4-17.
New Sessions Starting June 8! We will have 3 summer sessions in 2 week blocks available: running daily Monday-Thursday -  June 8-June 19; June 22-July 2; July 13-July 23. Registration is for the complete 2-week session. Our 30-minute groups (Language Leaps, Language Launch, Radiant Writers & Energy Explorers) can be booked in two day or four day blocks.
Funding available for families from Developmental Pathways and Rocky Mountain Human Services.