2018 Bike Riding Camps
May 3 – May 31 • 4pm-5pm
*Once per week on Thursdays.
Learn before summer starts!
Jun. 4 - Jun. 8 • 11am-Noon
Jul. 16 - Jul. 20 • 4pm-5pm
Aug. 6th - Aug. 10 • 4pm-5pm
Ages: 3-10 years
Cost: $250
IS YOUR CHILD STRUGGLING TO RIDE A BIKE?
WE CAN HELP ALL LEVELS!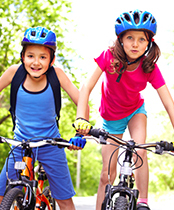 In this 5-day camp we focus on building your child's confidence on a bike in a fun and low-pressure environment. We use the Strider® learning method and combine it with enjoyable therapist led activities.
Our formula to make riding fun again includes:
Individualized goals for each child
Option to bring own bike or use our balance bikes
Multi level groups
Nurturing social skills and fun
Bring your own helmet! (required)
Register by filling out the Intake Form below!