2018 Bike Riding Camps
May 3 – May 31 • 4pm-5pm
*Once per week on Thursdays.
Learn before summer starts!
Jun. 4 - Jun. 8 • 11am-Noon
Jul. 16 - Jul. 20 • 4pm-5pm
Aug. 6th - Aug. 10 • 4pm-5pm
Ages: 3-10 years
Cost: $250
IS YOUR CHILD STRUGGLING TO RIDE A BIKE?
WE CAN HELP ALL LEVELS!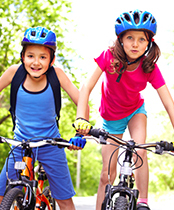 In this 5-day camp we focus on building your child's confidence on a bike in a fun and low-pressure environment. We use the Strider® learning method and combine it with enjoyable therapist led activities.
Our formula to make riding fun again includes:
Individualized goals for each child
Option to bring own bike or use our balance bikes
Multi level groups
Nurturing social skills and fun
Bring your own helmet! (required)