Level 2 Intensive Mentorship Program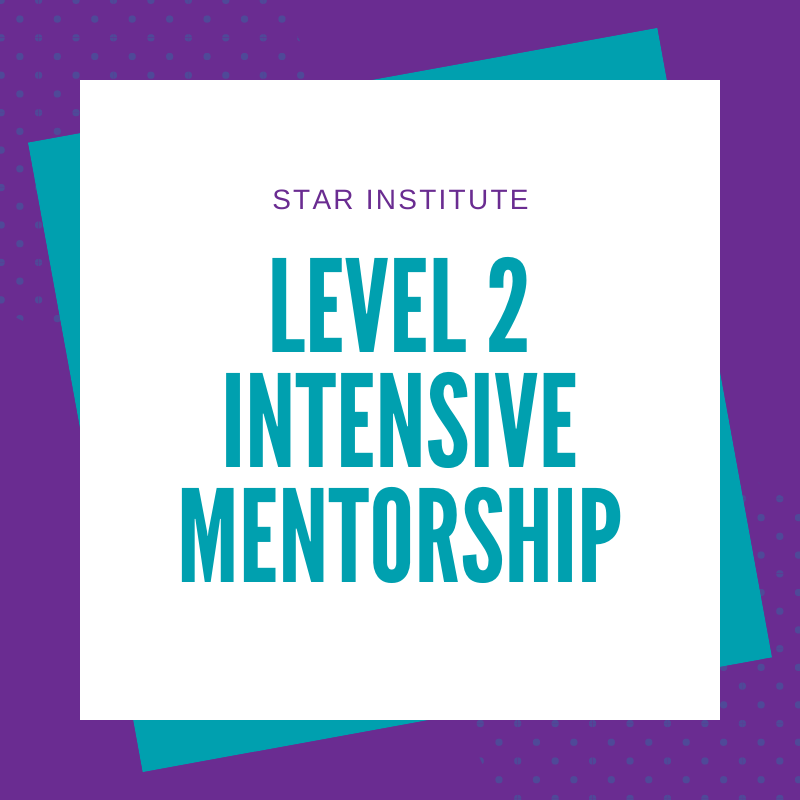 STAR Proficiency Certification
Completion of a Level 2 Mentorship Program allows participants the option to obtain STAR Proficiency Certification Level 2.
Quick Links:
Program Dates
Description
Cost
Lodging
Application Process
Credentialing and Continuing Education
Program Faculty
The Level 2 Intensive Mentorship Program, Hands-On Advanced Treatment, is conducted over 5 days on-site at STAR Institute in Denver, Colorado.
 
2021 Level 2 Mentorship Dates TBA
 
Description:
Level 2 Mentees must be an occupational therapist and will work with STAR Institute clients and their families, leading treatment sessions each day with the support of expert-level STAR Institute faculty. Extensive opportunity for reflection and collaboration with other mentees is included.
The objective of STAR Institute's Level 2: Hands-On Advanced Treatment is to develop advanced clinical skills through hands-on treatment, active mentoring, advanced lecture topics, and self-reflection. The intensive format allows for a deeper understanding of the STAR PROCESS treatment model, integrating information from Level 1 coursework with the relationship-based, family-centered approach that is foundational to STAR.
Learning Objectives:
Engagement in Reflective Process
Understanding of regulation in child and self and resulting impacts on treatment session
Understanding and developing relationships between self and client to support therapeutic gains
Treating with fidelity to the STAR PROCESS
Develop and engage in advanced clinical reasoning to comprehensively address needs of client and family.
Who Should Attend
Licensed and practicing Occupational Therapists who hold a STAR ProCert 1 credential and who have completed Temple University's STAR ProCert Level 2 online course, Advanced Reflective Practice for Treatment of Sensory Processing Disorder.
Program Cost
The cost for Level 2 Mentorship (five-day program) is $1,999, including a $399 deposit upon application.
Lodging
View a list of local hotels & suites where we have arranged special pricing for STAR Institute Mentees.
Application Process
Mentees must hold an SPD ProCert 1 credential and have completed Temple University's Proficiency Level 2 online course, Advanced Reflective Practice for Treatment of Sensory Processing Disorder.
Complete your application online, attach a copy of your current curriculum vitae or resume, and submit the $399 deposit. We will notify you by email within 5 business days regarding your acceptance into the program. Participant selection will be based on priority of applications received and previous work/educational experience. If you are not selected to participate in the mentorship program at this time, your initial $399 deposit will be refunded to you in full. Once accepted into the mentorship program, the $399 deposit becomes non-refundable.
Since a small number of candidates will be accepted per session, our selection process is quite stringent. We do this to ensure the best possible pairing of mentees and skill sets and to establish a setting conducive to learning in this intensive program format.
Credentialing and Continuing Education
All participants receive an Advanced Mentored Clinician Level 2 and attendance certificate upon completion. Participants who attended Temple University's STAR ProCert Level 2 online course within the past 3 years are also conferred the STAR ProCert 2 credential upon completion.
STAR Institute is an AOTA Approved Provider of continuing education. Approximately 31 Professional Contact Hours (3.1 CEUs) are awarded for full completion of a Level 2 Intensive Mentorship program. The assignment of AOTA CEUs does not imply endorsement of specific course content, products, or clinical procedures by AOTA.

Program Faculty:
Robyn C. Chu, MOT, OTR/L
Faculty, STAR Institute
Robyn is founder and director of Growing Healthy Children Therapy Services, located in El Dorado County, California. Mrs. Chu brings over 11 years of diverse clinical experience and a passion for helping others. Mrs. Chu began her career at Shriners Hospital for Children in Sacramento, and later became the Lead Occupational Therapist for the El Dorado County Office of Education. She has advanced training in Sensory Integration Therapy, completing mentorships and fellowships with Dr. Lucy Jane Miller at STAR Institute in Colorado. Mrs. Chu has spent the last 8 years of her career dedicated to growing her private practice, which is now includes a state-of-the-art, multi-disciplinary therapy practice nestled on 3.5 acres in the Sierra Nevada Foothills and a satellite location in Davis. Mrs. Chu has also serves as a Private Practice Consultant, supporting other growing therapy practices. As the director of Growing Healthy Children, Mrs. Chu has supported many families from around the world and mentored therapists across California. Over the years, Mrs. Chu has taught workshops to parents, teachers, and therapists and has guest-lectured at universities. She is currently on the faculty for the SPD Foundation. She helped standardize the Miller Functional and Participation Scales, the GOAL assessment, and is now working on the SP3D.  Mrs. Chu also serves as a consultant for research teams at UCSF and Stanford. Mrs. Chu recently published a set of 10 Sensory Motor Activity Books to support families and therapists around the world. She also developed "The Gardening Game: A Learn and Grow Kit for OT" in order to encourage motor development and social skills.
Mim Ochsenbein, MSW, OTR/L
Director of Education & Occupational Therapist, STAR Institute
Mim Ochsenbein, MSW, OTR/L has been a practicing pediatric occupational therapist for over 20 years. She received advanced training in sensory integration (SIPT certification), listening therapy (Therapeutic Listening), feeding therapy (SOS) and infant massage (CIMI). Mim's work with children and youth has occurred in a variety of settings including early intervention, school based, clinic based, mental health and private practice. She received her MSW in 2012 with an emphasis in non-profit management. Mim's work as a social worker has included case management, program development, and program management. She has taught both graduate level and professional continuing education courses since 2013. 

Michele Parkins, MS, OTR
Faculty, STAR Institute
Michele Parkins is an Occupational Therapist specializing in working with children and families with Sensory Processing and Integration Disorder and challenges in social emotional development at her practice Great Kids Place in New Jersey. Michele is faculty of STAR (Sensory Therapies and Research) Institute. She is also SIPT certified. Michele advocates for all children and families impacted by Sensory Processing and Integration Disorder to help them and others to understand the impact of this disorder on social emotional functioning. She has embarked on a journey to learn more to support children and families by engaging in Certification in Infant and Early Childhood Mental Health at Montclair State University. She is DIR certified and is faculty of Profectum Foundation where she educates therapists all over the world on social-emotional development and the DIR model. Continuing her advocacy work, Michele is very active on social media and blogs about the impact of sensory processing challenges on regulation, relationships, and social emotional capacities. She also works with local schools and communities to create spaces for sensory lifestyles so all kids can benefit from enhanced sensory motor experiences. Michele is also a mother of two children with sensory processing differences. She uses her real life experiences to help her clients better understand the impact of SPD on family dynamics and relationships and the day to day demands of life with sensory processing differences.
Lisa Porter, PhD, OTD, OTR/L
Faculty, STAR Institute
Lisa received her master's degree in Occupational Therapy from Rockhurst University in 1994, and a doctorate in Occupational Therapy from Rocky Mountain University of Health Professions in 2017. She will complete her PhD in Pediatric Science in 2020. Lisa is a faculty member of STAR Institute in Denver, Colorado where she travels frequently to mentor experienced therapists. She is passionate about learning, mentoring, listening to families' stories, and playing! 
Lisa specializes in sensory and relationship-based therapy. She holds certifications in Sensory Integration, DIR/Floortime, and Yoga Calm. Lisa has advanced training in the SOS Feeding Approach and Integrated Listening Systems, and training in Interpersonal Neurobiology. 
She is excited about integrating her own research into clinical practice, and creating a knowledgeable and passionate team focused on supporting families as dynamic systems. When she is not working, Lisa enjoys traveling, backpacking, kayaking, reading, and cooking. 
Virginia Spielmann, MSOT
Executive Director, STAR Institute
Virginia is a well-travelled speaker, coach and educator on topics including sensory integration, DIR/Floortime, child development and infant mental health. She has conducted trainings in Kenya, Australia, the Philippines, Vietnam, Hong Kong, and the USA and leads workshops at international conferences.  
Virginia is a founder and former Clinical Director of SPOT (Speech, Physical, and Occupational Therapy) Interdisciplinary Children's Therapy Center in Hong Kong, where she led a large and widely respected inter-disciplinary team.
Virginia obtained her BSc in Occupational Therapy in Oxford England (2002) and her Masters in Occupational Therapy from Mount Mary University, Milwaukee (2018). She is a DIR/Floortime Training Leader and Expert and clinical consultant for the Interdisciplinary Council for Development and Learning (ICDL). Her extensive pediatric experience includes children on the autism spectrum, as well as those with Sensory Processing Disorder, infant mental health issues, children from adopted families and those who have experienced developmental trauma.  
Virginia has considerable post-graduate training, she is certified on the SIPT and is currently completing her Ph.D. in Infant and Early Childhood Development with an emphasis on mental health, with Fielding Graduate University, in Santa Barbara.