Level 2 Intensive Mentorship Program
Level 2 Mentorship Program Dates:
June 21-25, 2021
Daily | 8:30 AM-5:00 PM MDT

October 25-29, 2021
Daily | 8:30 AM-5:00 PM MDT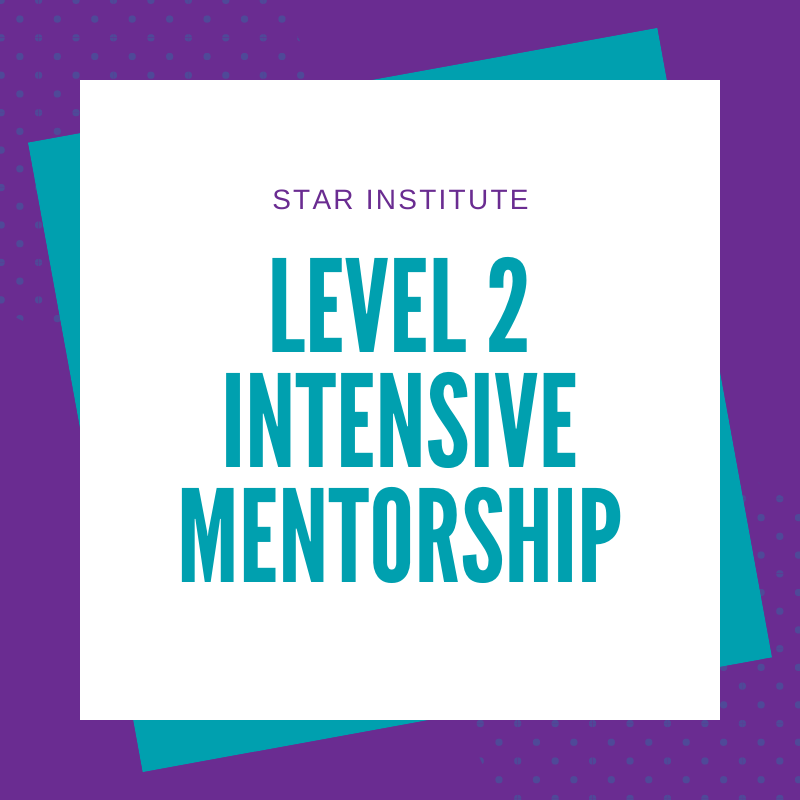 STAR Proficiency Certification
Completion of a Level 2 Mentorship Program allows participants the option to obtain STAR Proficiency Certification Level 2.
The Level 2 Intensive Mentorship Program, Hands-On Advanced Treatment, is conducted over 5 days on-site at STAR Institute in Centennial, Colorado.
 
Description:
Level 2 Mentees must be an occupational therapist and will work with STAR Institute clients and their families, leading treatment sessions each day with the support of expert-level STAR Institute faculty. Extensive opportunity for reflection and collaboration with other mentees is included.
The objective of STAR Institute's Level 2: Hands-On Advanced Treatment is to develop advanced clinical skills through hands-on treatment, active mentoring, advanced lecture topics, and self-reflection. The intensive format allows for a deeper understanding of the STAR PROCESS treatment model, integrating information from Level 1 coursework with the relationship-based, family-centered approach that is foundational to STAR.
Learning Objectives:
Engage in Reflective Process
Explain regulation in child and self and resulting impacts on treatment session
Develop relationships between self and client to support therapeutic gains
Practice treatment with fidelity to the STAR PROCESS
Develop and engage in advanced clinical reasoning to comprehensively address needs of client and family
Who Should Attend
Licensed and practicing Occupational Therapists who hold a STAR ProCert 1 credential and who have completed Temple University's STAR ProCert Level 2 online course, Advanced Reflective Practice for Treatment of Sensory Processing Disorder.
Program Cost
The cost for Level 2 Mentorship (five-day program) is $1,999, including a $399 deposit upon application.
Lodging
View a list of local hotels & suites where we have arranged special pricing for STAR Institute Mentees.
Application Process
Mentees must hold an SPD ProCert 1 credential and have completed Temple University's Proficiency Level 2 online course, Advanced Reflective Practice for Treatment of Sensory Processing Disorder.
Complete your application online, attach a copy of your current curriculum vitae or resume, and submit the $399 deposit. We will notify you by email within 5 business days regarding your acceptance into the program. Participant selection will be based on priority of applications received and previous work/educational experience. If you are not selected to participate in the mentorship program at this time, your initial $399 deposit will be refunded to you in full. Once accepted into the mentorship program, the $399 deposit becomes non-refundable.
Since a small number of candidates will be accepted per session, our selection process is quite stringent. We do this to ensure the best possible pairing of mentees and skill sets and to establish a setting conducive to learning in this intensive program format.
 
Credentialing and Continuing Education
All participants receive an Advanced Mentored Clinician Level 2 and attendance certificate upon completion. Participants who attended Temple University's STAR ProCert Level 2 online course within the past 3 years are also conferred the STAR ProCert 2 credential upon completion.
STAR Institute is an AOTA Approved Provider of continuing education. Approximately 31 Professional Contact Hours (3.1 CEUs) are awarded for full completion of a Level 2 Intensive Mentorship program. The assignment of AOTA CEUs does not imply endorsement of specific course content, products, or clinical procedures by AOTA.